Psy-Boutique 2018
We are excited to announce our new and magical location in Fethiye, Turkey. Located on a 50,000 m² site in a very rare sweet gum tree forest on the Dalaman-Fethiye road, directly within Günlük Bay, 17 kms from the city centre of Fethiye and only 38 kms from Dalaman airport. A stunning private beach and breath-taking views, in combination with the coolest crowd of our community and great music will make for an unforgettable holiday. It offers 5 star meals and accommodation, as well as our usual VIP tents and camping options - tickets are very limited so grab yours while they last.
---
New Year's Eve
Last year we threw a New Year's Eve party in Istanbul which was off the charts. This year we are planning to end 2016 and start 2017 with a big bang and will be hosting a party in London to celebrate with you all. Watch this space…
---
eVisa
Due to a recent change in local law, you might have to apply for your Visa before you travel. Check on this website www.evisa.gov.tr.
---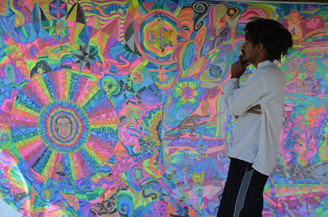 Art in Psy-boutique Festival
What a great way to open Art in Psy-boutique Festival with our first artist, the massively inspiring Fernando Costa!
A visual seer and well being body worker in Chi Kung and Capoeira.
Fernando Costa is a multimedia artist from Bahia, Brazil. He will be exhibiting his mesmerising art work, including a stunning multi-faith psychedelic wall hanging which took 3 years to complete.
He will also be doing talks and daily workshops.
---
Festival healing and art submissions
We are growing the festival and adding more art and healing area. Also happy to announce 2016 will be Psy-boutique family addition. Not only will you receive a discount booking with a family member but also we be having part time kids club and baby sitter facilities.
If you are a qualified holistic practitioner and would like to attend our festival offering a Healing art or a Healthy living workshop. If you would like to deliver a well being talk please forward a synopsis. Please contact Helen, gileshelen1@gmail.com.

If you would like to submit a relevant Artistic installation or make a small exhibition of your work, please forward copies and or ideas to Helen, gileshelen1@gmail.com.
Kids club volunteers, please contact Yildiz Cokcoskun, djnegma@gmail.com.
---
Psy-Boutique Festival 2016 dates and location announced
Where:
Sundance Natural Village, Tekirova, Antalya - Turkey
When:
26-31 May 2016
Our 4th edition is on
Facebook
and
Goabase
now!
---
Psy-Boutique day @ Ozora
We are so happy to announce that Psy-Boutique Festival will have its very own special day at the big bro Ozora Festival on the last day of the festival at Pumpui.

Line up:
12:00 Mysticism
13:00 Aliji
14:00 Groovedesign & Nilay(on clarinet)
15:30 Ebru Al
16:30 Ramizes (PsyTech set)
17:30 Gypsydelics (progresive and enturumantal funk jazz set)
19:00 Nuno Deconto
20:30 Bahar Canca & Ozlem Tekin – Psyshe LIVE
21:30 Shane Gobi (3hour set)

---
Psy-Boutique day @ Neon
Counting down the days to Psy- Boutique day at Neon Festival with Aphid Moon, DJ Tristan, Captain Hook, Liquid Soul (official), Perfect Stranger, Özlem Tekin and many more...

---
Istanbul Party
Psy-Boutique & Ayata Festivals are hosting world-wide famous psytrance DJ and founder of Alchemy Records; "DJ SHANE GOBI" in Istanbul on 17th January 2015 Saturday night for their first reunion party of the year. At the event, you will have chance to listen "PSYSHE Live" that is a collaboration of "DJ/Producer, founder of Psy-Boutique Festival and Subbubble Records; Bahar Canca" and "Famous Turkish Rock singer Ozlem Tekin" for the first time. This project was born thanks to these two colorful womens` love for psytrance festivals. Night will warm up with "DAYKO & JAMIRYO"; collaboration of one of the first resident electronic music DJs of Turkey; "U.F.U.K." and well-known drummer "ATES TEZER". "FREETECH aka Ozzy Cetin" and "EBRU AL" are going to boost the night with their DJ sets.

Pre-sale tickets are available here
Facebook event page

---
Reunion world tour
We will be launching a reunion world tour this coming autumn, winter and
spring starting in London on the 15th of November at Inspiral Lounge
in Camden. Stay in touch for a lot of free fun and treats ;)

---
Important Information
Please email your flight arrival and departure to Dalaman: transport.psyboutique@gmail.com so we can arrange the boat times to have minimum wait. If you coming with other transport than flying Dalaman then let us know your arrival to Oludeniz. Mention if you wish to share transport till the boat and we will do our best to connect you with others.

---
EarthDance! We are part of it!!!

Global dance for peace is taking place on Psy-Boutique: 0:00 UTC (3am Turkey) | Sat Night | Sep 20-21, 2014
The highlight of the Earthdance Global Peace Party is a sychronized link-up, when every event around the world plays the Prayer for Peace music track at the same time. Of course we are planning that too.
---
Dub-master Gaudi confirmed
We are pleased to announce dub-master Gaudi is confirmed to join us at Psy-Boutique for an exclusive 2-hour live set featuring Danny Ladwa. They are not only amazing musicians but also such positive great energies to be around.
---
Phase 2 Tickets
Our Early Bird phase is now officially over ... but we still have plenty of tickets available at our Phase 2 prices. There's a choice of High Tents for 2 people or Small Domed Tents for 1 person - all with beds and bedding provided for you. We're feeling such a great level of excitement for this festival and we know for certain that it's going to be a very special experience. Get your tickets now to be part of Psy-Boutique in the magical Butterfly Valley.
---
Bungalows All Bagged!
We've had a fantastic response to our Early Bird ticket sales and we need to tell you that each and every available bungalow on site has now been booked. Sorry to cause any disappointment but don't worry, we still have loads of comfortable camping on offer. With a choice of High Tents for 2 people or Small Domed Tents for 1 person, you'll still have a bed to sleep in and a roof over your head. Although, with the gorgeous location and 72-hours of awesome music, we know you won't be spending too much time in bed!
---
Early Bird Phase
Our Early Bird tickets have sold like hot cakes and are nearly all gone. Hurry now to get yours ... only a few days left!
---
Free Brunch
We like giving you festival goodies ... special things to make you feel comfortable and good, while you party with us. This year every festival ticket includes a bed, a stunning boat trip to the venue and a €3 donation to a local Turkish charity. But, after some consideration, we've decided to add to that and offer free brunch to everyone, every day of the festival. Put that in your bowl and eat it!
---
Warming Up
We're already enjoying the vibe of psy-boutique festival by throwing a number of warm-up parties. Bahar Canca rocked our first pre-party in Goa on 6 Feb 2014 and received an amazing review in the Ozorian Prophet. Read it
here
. Sat 22 Mar 2014 finds us at Inspiral (with a special late license 'til 3am) throwing a free teaser party, with a selection from our festival DJ line-up bringing you Spring tunes of techno, prog and psy. With more parties to come, keep an eye on this space or follow us on facebook and twitter.
---
Shane Gobi confirmed
We are still feeling the buzz from Shane Gobi's epic 5-hour sunrise set at our 2012 festival. We are excited to announce that Shane will be spinning his magic tunes for us again in 2014, yay!
---
New additions
As our festival evolves, we would like to offer a more varied experience, as well as stuff to make you more comfy! So, our plans are to include in our 2014 offerings things like art, a healing area and possibly a kids club that will offer babysitting and child-friendly activities. Please contact us if you are able to contribute your talents in this area. Watch this space for more.
---
Name change
Having held our first two festivals at the gorgeous Sundance Camp, we've secured a new venue, the magical Butterfly Valley, for 2014. So, in the spirit of making our festival more unique and not necessarily associated with only one venue, we have changed the name from Sundance to Psy Boutique. Have no fear however, nothing else has changed, so you can expect more of the same and hopefully better!
---
Our new location
Butterfly Valley is a hidden gem, located on the Turkish coast, south of Fethiye. Reached by boat and surrounded by a steep gorge, the valley nestles between the dramatic walls of rock. It offers a private beach, with crystal clear aquamarine sea, whilst a short walk will take you to the beautiful waterfall, cascading down into the valley.
We fell in love with the venue as soon as we arrived, it certainly has a wow factor and we know you'll love it too. Accommodation is either in the cute wooden bungalows or camping in tents (all provided by us) and there are hot showers and flushing toilets!